Usually I am very happy when Five for Friday comes along. But seeing that I am celebrating Spring Break, it really isn't as joyful as it usually is! :)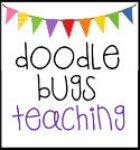 I'm linking up with Doodle Bugs again. It makes me smile every time I go to the site. :)
I am on Spring Break. It has been a relaxing time in the morning and afternoon hours and then it's off to rehearsal with my daughter for "Oliver". It is so much fun, but so many hours. :)
That's me in the back smiling on the right. :)
It finally felt like spring yesterday.
My husband and I went for a run. I didn't wear a hat or gloves. :)
I have begun to organize my files on my computer. This is a daunting task. I set a timer for 10 minutes so that I don't get too overwhelmed.
We played the game "Trigger" the other day. Just the kids and me. It was so much fun!
I finished the book Gone Girl by Gillian Flynn.
This book was wonderful. It was suspenseful, riveting, it kept you guessing, and emotional.
You know that feeling when you finish a book and you still "feel" it.
That's what you get from this!
I hope you had a great week.
Have a wonderful day!