Better late than never.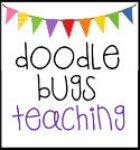 I am linking up again, a little late this time. I forgot yesterday was Friday. Oh Well.
I began Spring Break yesterday!!! Woo HOO!!!
We are staying home, but we are going to do some fun things together. :)
I had my formal observation yesterday. After a lot of hours and hard work, it is finally done. I think it went alright. My firsties had fun. :)
We have been playing with all the math games this week. The kiddos have so much fun!
I have some in my TpT store.
There is a sale going on this weekend. :)
I attended a funeral this week. It was for my friend's grandmother. I have known her since I was very little. She was 92 and led a wonderful, faithful life. My friend's son (who is becoming a priest) officiated the service. This was so moving. Did I mention that he is 17? Amazing.
I think I have found something amazing for my class. I have a few behavior issues in my classroom. One in particular does not have any boundaries at home. So, he has a really hard time in school. We have tried SOOOOO many things with him. I just started using Class Dojo.
Have you heard of this? It has been working all week. I can't believe it. It has so many features I haven't even tried yet. I am so excited about it. It really keeps these guys in check.
You should really check it out.
Well, another week has flown by.
I am excited to be home for Spring Break.
Have a wonderful Saturday!!!