Well, I am back from having the flu. Nice..Huh???
A week and a half vacation and I am on the couch for 4 days of it.
We go back to school tomorrow.
I am certainly not ready for this. I want more time.
My husband says I should not be so greedy. I know. But I want some time off where I am not on the couch. Oh Well, at least I got to spend some nice time with my children. We taught them how to play cribbage. We read together, played games, and did a lot more things we would not have if I hadn't been sick. So, I am grateful for this time with them.
I was very fortunate to have Kathy from
as my Holly Bloggy Christmas partner.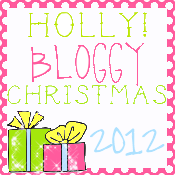 First, a beautiful kitchen cloth. It is so cute. The scarf has so much detail. The ribbon is going to be for my hair (if I can keep it away from my daughters).
A cute little frame I can put our next Christmas picture in. I love polkadots!
We have played this game about a dozen times already! Fun and FAMILY time!!!
LOVE IT!!!
Thanks so much Kathy. You really put a lot of effort and thinking into my gifts. I really appreciate it!
Have a wonderful day!