I was blog hopping the other day and I found some of the CUTEST owls I have seen!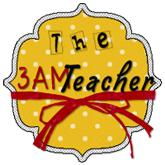 Michelle put some freebies on her blog. She is so talented.
You have to look to see what else she has! AMAZING!!!
Check it out here!
Look at him...or her! So cute!
So, I had to make one of my place value games with them.
OOOOH! I can't wait to use this in my classroom!
Speaking of OWLS....
Have you checked out this giveaway. There's some really cool stuff to win!
You can head on over to Rae's site or enter here!
Oh, how I love Rafflecopter!
Have a wonderful day!