Here I am on a Saturday, posting on a Friday Linky party.
I just haven't been able to keep up for the past two weeks. Too busy.
Head on over to link up with Doodlebugs.
What a week.
We had a little unexpected visitor. (I posted about it
this week
, but I will post the picture again. :)
Yep, it's a baby field mouse.
We really got into adding and subtracting story problems.
I think the little math games we are playing are really paying off.
Here's a fun little FREEBIE for you.
Click on the picture to head on over and download.
My kiddos LOVE this!!!
They are having so much fun!!!
My son had his first track meet this week. He is right in the middle.
He did well.
We finished our pen pal letters for our friends in Wisconsin.
Lori, from Little Priorities, and I are having our classes write pen pal letters to each other. We are going to try to Skype sometime soon. :)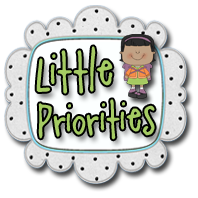 My goodness...my kiddos LOVE energizers.
I have many pinned and are adding more as we find more and more that we LOVE.
Click on the picture to go to my Pinterest Board.
We usually do these for Friday's Morning Meeting Activity.
But then there are the times when we just need a little something. :)
Head on over and link up!
Have a wonderful day!!!