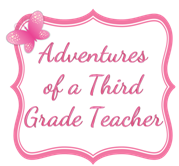 Amber, over at Adventures of a Third Grade Teacher, is having a linky party.
It's to reflect on your year. What a great idea!
Here goes...
1. Starting a blog for my classroom.
I began with a google website. But it was too difficult to manage on a daily basis.
The blog is soooooo much easier!
2. Keeping my classroom neat and organized.
It is nice and tidy. But I would like to get it a little more fun and jazzed up.
I have posted about this before... I am longing for the owl theme from Schoolgirl Style.
I just love it!!!
3. Working on incorporating the Common Core Standards.
We are working on our Math curriculum this summer. I feel like with all the units you all have prepared and some of mine that I am in good shape for next year.
1. Not having enough time for Math.
I know this is not my fault entirely. I do not make up the schedule. I need to fight for more time next year. I do not feel I have taught with the program with fidelity only have a little more than half the time you are suppose to allow.
We did have fun though :)
3. Complaining Critiquing
APPR had taken over a lot of my time. It is what it is and it's not going away.
It's your turn to share three things that were great about this school year, and three things that were not so great.
Be sure to link up your post with the linky party on Amber's blog.
Have a wonderful day!