I am so excited for today. We are going to have a Diffendooffer Day!
Cheryl, at Primary Graffiti, had this AMAZING idea to have a Diffendoofer Day.
My kids LOVE this book.
I am so drawn to it now that things are going the way they are with tests and schools and such...well, anyway back to Diffendoofer Day!
We are all going to dress up like a student would who attended Diffendoofer School. I will definitely be posting pictures later.
We are also celebrating Dr. Seuss' birthday, of course!
I found some awesome ideas on Pinterest.
Here are mine. Taken with my iPhone at 5am. Please don't judge :)
It was so much fun to open the fridge this morning and find all the FISH!
And here are my square? Green Eggs and Ham!
Do you think they will notice? Ha!
We made Thing 1 and Thing 2 yesterday. I cannot wait to show you how these turned out!
We took this idea and paired it with Mel's Freebie.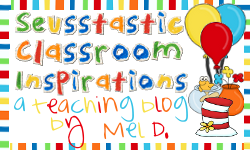 I hope you all have a Diffendoofer sort of day!