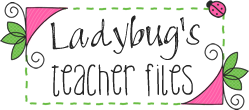 (an amazing site that I frequently stalk) has a wonderful holiday "card" to send along to a blogging friend.
I would like to pass a little holiday cheer onto Barbara at
She not only reads posts, but she makes meaningful comments on them.
I LOVE that.
This will have to be my New Year's Resolution.
Her blog has so many cute ideas!
AND she teaches PE! (I don't know how she does it!)
So, here's to you Barbara. Happy Holidays!!!